It's hard to imagine, but tomorrow marks the 15th anniversary of the tragic accident that ended the career of Vladimir Konstantinov. For those who maybe don't remember, it was less than a week following the glorious Red Wing sweep of the Philadelphia Flyers to win the Stanley Cup. This was the first Stanley Cup to come home to Detroit since 1955, ending a 42 year drought that was the longest in NHL history at the time. Konstantinov was on his way home from a celebratory party with his fellow countryman and future Minister of Sports for Russia Viacheslav Fetisov. Also in the limo was team masseuse Sergei Mnatsakanov.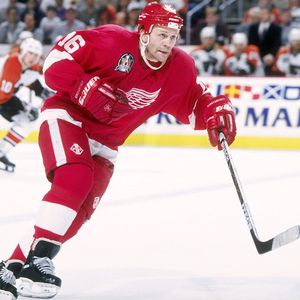 This is the look of a Russian who is content with destroying you.
Getty Images
The limo was being driven by Richard Gnida, who had no business driving a golf cart, let alone a limo. He had lost his driver's license. Twice. For alcohol related offenses. According to a story from the
Augusta Chronicle
,
"
It was the second time his license had been revoked. Since 1994, he had been ticketed for operating while impaired, operating under the influence and unlawful bodily alcohol content and twice for speeding..."
Oh, he also had marijuana in his system, which we all agree is something you should have when you're at your job driving a limousine. Why he was hired by a limo company as a driver is one of those mysteries of life that might not ever be solved, like whether or not there is a God and why people think that Will Ferrel is funny.
Two careers were ended here.
What we did know is that one of our Heroes of Hockeytown who brought home the greatest trophy in sports had been felled because some idiot decided to run a limo into a tree. And three exceptionally great people were hurt as a result.
Thankfully, Fetisov was able to recover from minor injuries sustained in the wreck. He continued to play for the Red Wings for another year. Mnatsakanov suffered severe brain damage and paralysis, but also managed to survive the crash. And then there was Konstantinov.
I remember having it explained to me at the time, that basically his brain and neck had been whipped around, his head smacking off the inside of his skull and his spinal cord ripping loose from the base of his skull. I remember thinking there's no way someone could survive that. I remember feeling devestated that after something so amazing had happened to Red Wings fans and the team, that such unmitigated disaster could happen. It wasn't right, it wasn't fair.
"He was one of the best at his position when he had the accident...He was getting better and better every season, and was just excelling as a hockey player. And just when he hit his prime -- the accident happened", Nicklas Lidstrom told
ESPN.
Then they all survived. Then a year later, I was in tears as I watched on television as the Detroit Red Wings won another Stanley Cup, and I got to see this:
Right where he belongs
The loss of Konstantinov meant so many things for the team and fans. First, Konstantinov was a hard hitting, physical defenseman. He made the other guys on the ice not want to be there. You never knew when Konstantinov would decide you were no longer welcome in his presence and promptly remove your face from your skull with a hard check. There are a lot of Red Wings moments that bring me climax-esqe joy, but one of the top ones has to be this:
That hit should be shown before the start of every Red Wing game. Actually every hockey game. Ever. I just love how business like Vladdy is afterwards. Like it's time to go to lunch, and he hopes the cafeteria has that minestrone soup he really likes. And that bitch Barbra from finance better have those files on his desk, otherwise he's going to flip her ass over like he just did to that other bitch Claude Lemieux.
The loss of Konstantinov also caused a curse. A Kurse of Konstantinov if you will. Because after we lost him, Detroit didn't really have that physical defenseman, attempts to get one usually failed. You did have guys like Jamie Pushor, Aaron Ward, and others but none of them were dominating physical defenseman the same way that Konstantinov was. There were players like Uwe Krupp who ended up with terrible back problems that caused him to miss 60 games, Derian Hatcher who signed a 5 year deal with the Wings and then played 15 games in one season due to injuries. Then the lockout happened, the salary cap came into existence and his contract was bought out by Philadelphia. Jiri Fischer collapsed on the bench due to his heart deciding to stop, Andreas Lilja got punched in the face and had concussion symptoms for a year.
It wasn't until another K came to the team that I feel like the Red Wings finally had another player like Konstantinov. Ayoung Swede named Niklas Kronwall came to the Red Wings and has basically become Vladimir Konstantinov Mark II. If you don't believe that, watch this hit of
Konstantinov on Peter Forsberg
and then watch almost any Kronwalling video.
Believe is what Konstantinov did, the Red Wings did, and we all did.
We should all believe in bigger things more often.
But Konstantinov means much more than just a great hockey player to the Red Wings. He embodied strength and talent together: the Russian Five line was a collaboration of different skill sets and specializations, but all of them were great hockey players in and of themselves. On top of that, while many perhaps thought Konstantinov was dead, he has persevered and survived and excelled, becoming an artist and regaining memories,
mobility and speech.
To conclude,
when asked what his nickname "Vladinator" meant
, he said: "Hit everybody...tough". You're damned right.